Homes in Wheat Ridge, Colorado
Located 10 minutes northwest of downtown Denver, Wheat Ridge is rich in history, culture, and modern shopping centers and restaurants. The community's downtown area offers an eclectic mix of local businesses, dining establishments, and shops. The small-town feeling is complimented by an authenticity that only tradition and locally crafted goods can provide.

Wheat Ridge offers more than 20 parks, equestrian trails, and public open space. Cyclists and pedestrians can enjoy the Wheat Ridge Green Belt trail system, with over 300 acres of open space, including Clear Creek Trail, a 6.5-mile paved trail. There is also Bass Lake Boardwalk, a bird watcher's paradise which is home to more than 100 different migratory bird species who reside in the area's protected wetlands.

On the eastern edge of Wheat Ridge, you'll find Lakeside Amusement Park, a vintage amusement park created in the 1900's. The wooden roller coaster, Ferris wheel and concession architecture offer visitors a unique entertainment experience, and residents consider Lakeside an institution within the community.

Wheat Ridge's proximity to downtown Denver provides for short commutes and easy access to Coors Field, Mile High Stadium, Arvada's historic Olde Town, and RTD's light rail G line.
List of Zipcodes
| Zip Code | Zip Code Name | Zip Code Population |
| --- | --- | --- |
| 80002 | Arvada | 20,673 |
| 80033 | Wheat Ridge | 25,309 |
| 80034 | | |
| 80212 | | |
| 80214 | Lakewood | 27,453 |
| 80215 | Lakewood | 19,462 |
Demographics
| | Zip Code | City | County | State | National |
| --- | --- | --- | --- | --- | --- |
| Population | 4,270 | 31,971 | 585,026 | 5,759,582 | 331,426,769 |
| Population Density | 49.4 | 3,414.5 | 765.5 | 55.5 | 93.8 |
| Percent Male | 49.0% | 49.0% | 50.0% | 49.0% | 49.0% |
| Percent Female | 51.0% | 51.0% | 50.0% | 51.0% | 51.0% |
| Median Age | 50.8 | 44.2 | 42.6 | 40.2 | 39.0 |
| People per Household | 2.6 | 2.1 | 2.47 | 2.8 | 2.6 |
| Median Household Income | $106,904 | $58,750 | $80,305 | $115,942 | $61,963 |
| Average Income per Capital | $52,013 | $37,425 | $42,520 | $50,725 | $33,235 |
Market Data
| | Zip Code | City | County | State | National |
| --- | --- | --- | --- | --- | --- |
| Median Sale Price | $725,000 | $517,500 | $475,000 | $425,100 | $277,796 |
| Median Age of Home | 37.0 | 66.0 | 53.0 | 39.0 | 49.0 |
| Homes Owned | 86.0% | 53.0% | 68.0% | 67.0% | 58.0% |
| Homes Rented | 10.0% | 42.0% | 28.0% | 23.0% | 31.0% |
| Homes Vacant | 5.0% | 6.0% | 5.0% | 4.0% | 11.0% |
Market Trend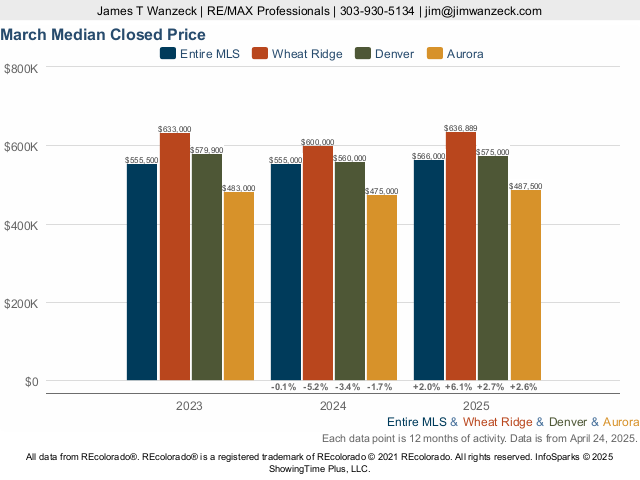 Properties on market
No available property on market in Homes in Wheat Ridge, Colorado
Contact Us
RE/MAX Professionals
6020 Greenwood Plaza Blvd #100
Greenwood Village, CO 80111, USA
Valuation Index
Quality of Life - 90%
Climate & Environment - 75%
Schools & Education - 73%
Safety & Crime - 17%
Quality of Life
| | Zip Code | City | County | State | National |
| --- | --- | --- | --- | --- | --- |
| Cost of Living Index | 110.0 | 81.0 | 97.0 | 110.0 | 100.0 |
| Health Cost Index | 121.0 | 93.0 | 108.0 | 119.0 | 100.0 |
| Commute Time | 25.0 | 23.0 | 26.0 | 25.0 | 24.8 |
| Commuting by Bus | 0% | 5.0% | 3.0% | 1.2% | 2.1% |
| Commuting by Carpool | 7.0% | 12.0% | 10.0% | 11.0% | 13.5% |
| Commuting by Auto | 76.0% | 79.0% | 82.0% | 80.0% | 79.1% |
| Working at Home | 16.0% | 4.0% | 5.0% | 5.2% | 4.7% |
Walk Score®
Climate & Environment
| | Zip Code | City | County | State | National |
| --- | --- | --- | --- | --- | --- |
| January Average Low Temperature | 13.6 °F | 13.2 °F | 12.7 °F | 13.7 °F | 22.6 °F |
| July Average High Temperature | 84.0 °F | 86.2 °F | 85.8 °F | 77.5 °F | 86.1 °F |
| Annual Precipitation (inch) | 17 in. | 17 in. | 17 in. | 19 in. | 38 in. |
Schools & Education
Safety & Crime
Zip Code
City
County
State
National

Violent Crimes

Calculated annually per 100,000 residents

Assault
162.9
194.3
255.9
246.3
250.2
Murder
2.2
2.3
2.8
3.8
5.0
Rape
70.4
74.8
68.3
67.2
42.6
Robbery
123.3
52.6
51.7
63.6
81.6

Property Crimes

Calculated annually per 100,000 residents

Burglary
223.7
377.9
425.3
348.4
340.5
Theft
360.4
668.2
641.0
1,858.3
1,549.5
Motor Vehicle Theft
603.0
100.1
125.9
384.0
219.9
Take a photo of this QR code
to keep this website details